THE WEDGE
®

PATENTED
Radiolucent Mouth Prop for Dogs and Cats
Anatomically designed to provide secure, open mouth
Use for anesthesia, radiography, oral surgery, and dentistry
No moving parts, use if canines are absent
Ultrasound, heat, or cold sterilize
SMALL size for cats and smaller dogs, LARGE size for medium to large dogs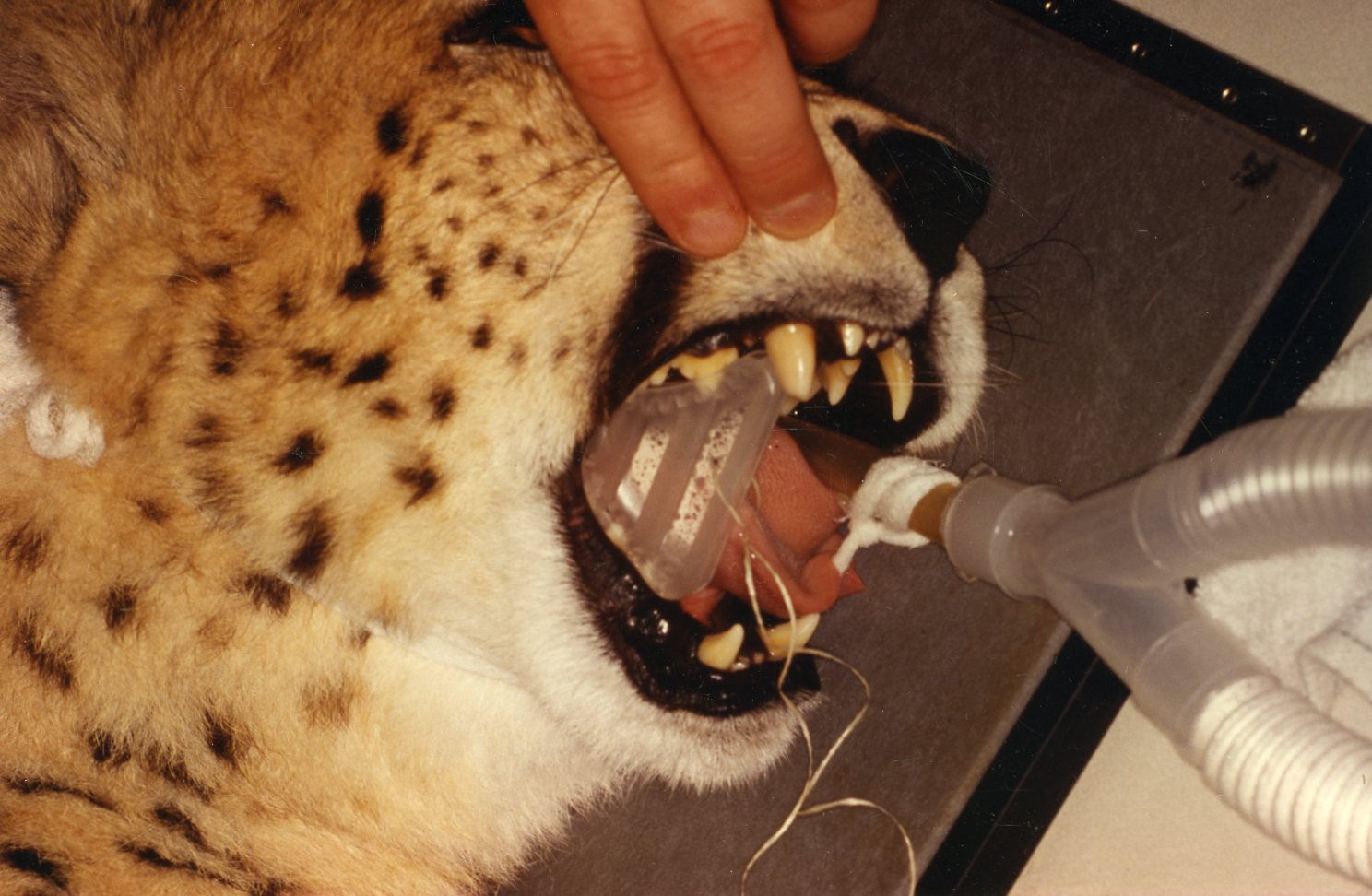 The WEDGE® is a one-piece, radiolucent mouth prop. The patented, anatomic design holds the carnivore mouth open during anesthesia by securely engaging the premolars and molars.
NOTICE: Veterinarians have used spring-loaded mouth "gags" in cats and dogs for many years. However, the spring-loaded devices are no longer recommended. A study published in THE VETERINARY JOURNAL (2014) showed that the spring-loaded "gags" generating constant force contributes to bulging of the soft tissues between the mandible and the tympanic bulla in cats. This force leads to the compression of the maxillary arteries as they course through the osseous structures. In cats the maxillary arteries are the main source of blood supply to the retinae and brain.
Reduction of the blood flow can result in temporary or permanent blindness and neurologic abnormalities. Spring-loaded "gags" constant force can also cause jaw muscle strain and injury to the temporomandibular joints.
It is recommended to use "static" mouth props such as the WEDGE. Be sure to not open the jaw to its maximum to avoid muscle strain and temporomandibular joint injury.
The WEDGE®:
Replaces the metal "gag" which catches whiskers and gloves on springs and slides.
Has no grommets to be lost, permitting metal to enamel contact.
Can be used if the canines are broken or absent.
Can be used on either side of the mouth and switched quickly.
Radiolucency facilitates clear open-mouth radiography.
May be ultrasounded and heat or cold sterilized.
Has a hole provided for attachment of a safety lanyard if desired.
Is useful during anesthesia, intubation, oral examination, oral surgery, dental procedures, and radiographic examination.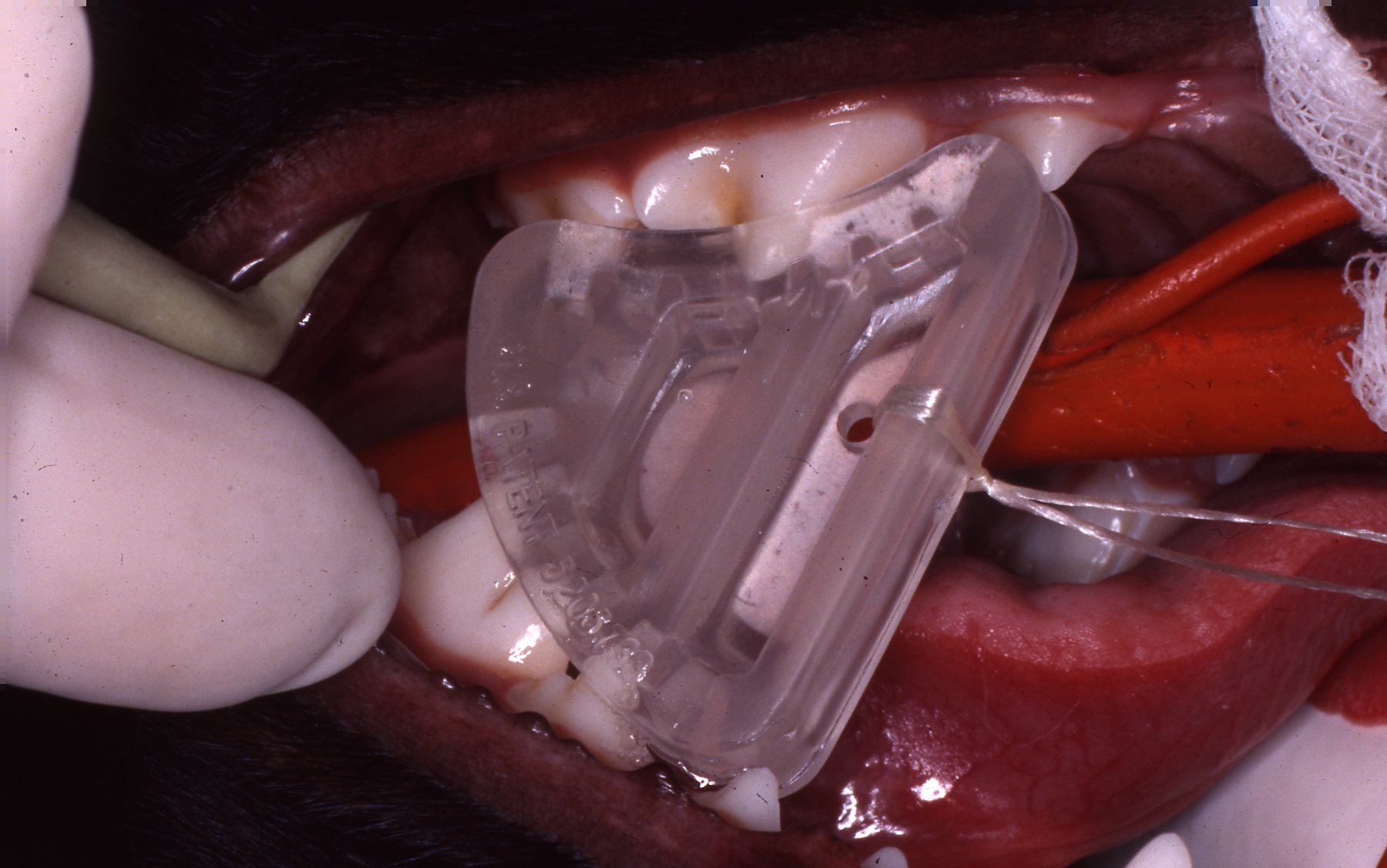 Developed and patented by Dr. John L. Scheels, dental consultant to the Milwaukee County Zoo, Adjunct Assistant Professor, University of Wisconsin-Madison School of Veterinary Medicine.
"The (Scheels) Veterinary mouth prop's biggest asset is its simplicity - open the mouth and stick it in!...it does not interfere with radiographic detail, can be ultrasounded, and autoclaved...can be used for dental and oral surgery procedures...is positioned within the mouth, unlike the spring loaded (extra-oral) devices which can be in the way of the operator and interfere with positioning the patient..."
~ Paul E. Howard, D.V.M.,
Vermont Veterinary Surgical Center, Burlington, Vermont.
Order The WEDGE® from any of these veterinary equipment suppliers:
---
L.V.V.E.S
Large Volume Veterinary Endodontic Syringe™
Click here for more details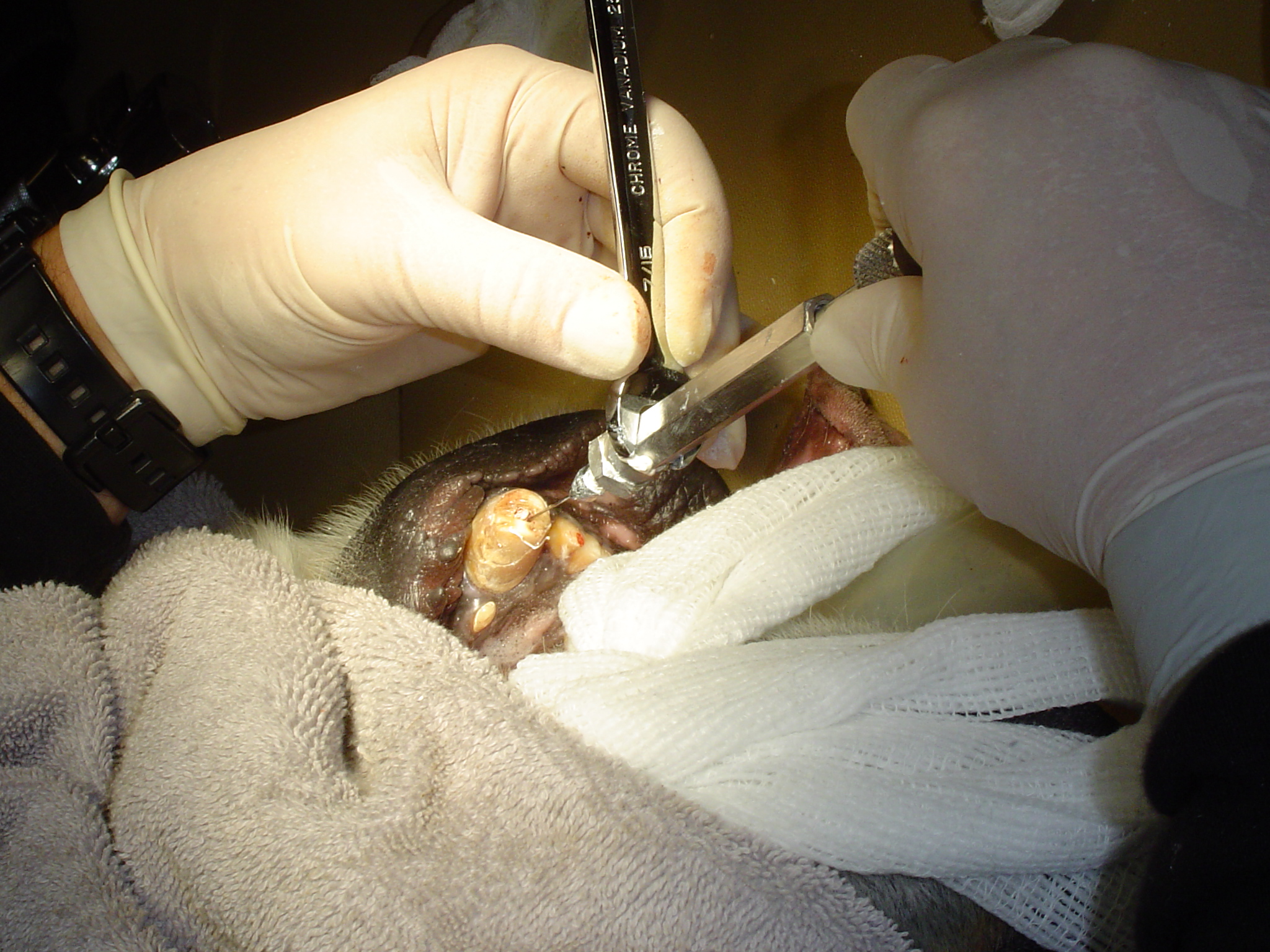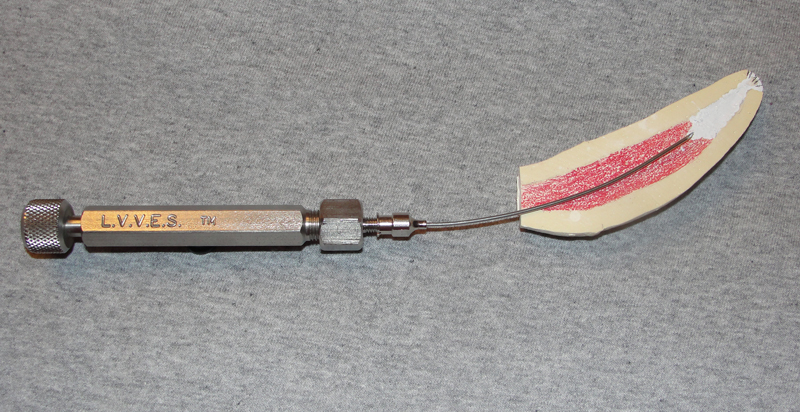 An endodontic syringe developed by Dr. John Scheels specifically for veterinary use in all species for complete and consistent obturation of root canals over 30mm long or with large pulp chambers. It permits the positive deposition of endodontic sealer and filler pastes at the apex of these long teeth. NO SPECIAL NEEDLES are required as it may be used with any standard size hub. Plastic, metal, threaded or non-threaded needle hubs will seal well on the tapered syringe nipple.
Purchase from Shipp's