Endodontic Therapy in the Zoo Practice Setting
Saving significant or readily treatable teeth with endodontic therapy is certainly a valuable service to zoo patients. Again, the special circumstances of working in the zoo setting apply relative to the risks and complications of general anesthesia. As with all zoo treatment considerations, endodontics must be thoroughly planned and discussed with the zoo veterinarian/anesthesiologist for their approval.
Endodontic therapy salvages teeth that have had their pulp irreversibly affected due to exposure to the oral cavity by fracture or caries of the tooth crown. Such exposure usually initially results in pain. The animal may not display much distress but it often times leads to difficulty in eating and behavior changes, at least temporarily. The exposure usually results in degeneration of the pulp, eventual abscessation and related lysis of bone at the tooth apex. Endodontics should not be performed on zoo animal teeth that cannot be readily and conservatively restored to function. Endodontics will not salvage a periodontally compromised tooth.
By significant teeth, I mean teeth that are critical to chewing (especially posterior teeth in herbivores), and very large teeth such as canines and carnaissals which if removed, leave very large voids in the patients mouth and jaws. Removing those teeth invariably require surgical extractions, while performing endodontics is a briefer and less strenuous procedure. Indeed, performing endodontics on some of these teeth may involve surgical approaches, but they still are much less invasive than surgical extractions.
By "readily treatable" teeth, I believe the best example is incisors that can be treated efficiently because of their accessible position, single root canal and ease of radiography during treatment.
I will not attempt to discuss the details of endodontic therapy. Dentists or veterinary dentists reading this know them well, but I will review the basic tenets of endodontic therapy for veterinarians not trained in dentistry and then point out the special considerations in the zoo practice setting. I will illustrate with zoo cases.
The three basic steps in endodontic therapy are to first extirpate the pulp and debride the canal of all soft tissue; second, disinfect the canal; third, obturate or hermetically fill the canal, sealing it off at the root apex and coronal ends. Thorough treatment requires quality preoperative, intraoperative (working length) and postoperative radiography to manage and evaluate.
In the zoo setting, the operator must plan to complete the endodontic treatment in one anesthesia procedure. There may always be exceptions of course, but this should be the goal. This requires thorough preparation by the operator. Follow up examination including radiography must always be planned when the next opportunity is possible.
Knowledge of the particular tooth anatomy and dimensions is critical. In particular, understanding of the delta foramen in all carnivore teeth is essential to treatment considerations. The delta foramen presents a microscoptic anatomy that is impossible to instrument. If the pulp has become necrotic in the delta area it is very questionable whether instrumentation and irrigation disinfects the delta region. If the conventional, coronal or oblique approach fails, or the apex is open from being immature or destroyed by lysis, a surgical approach is appropriate. That would involve an apisectomy, retrograde approach and fill. I will describe that later. See Reference section Topic: The Delta foramina. Studying skull and teeth specimens is the best manner of such preparation.We have developed a collection of skulls and teeth from animals that have died at MCZ. We have also cultivated relationships with the Milwaukee Public Museum and University of Wisconsin Zoology Museum for access to their collection. See pix of hyena canine and cutaway of its pulp chamber and the delta foramen anatomy.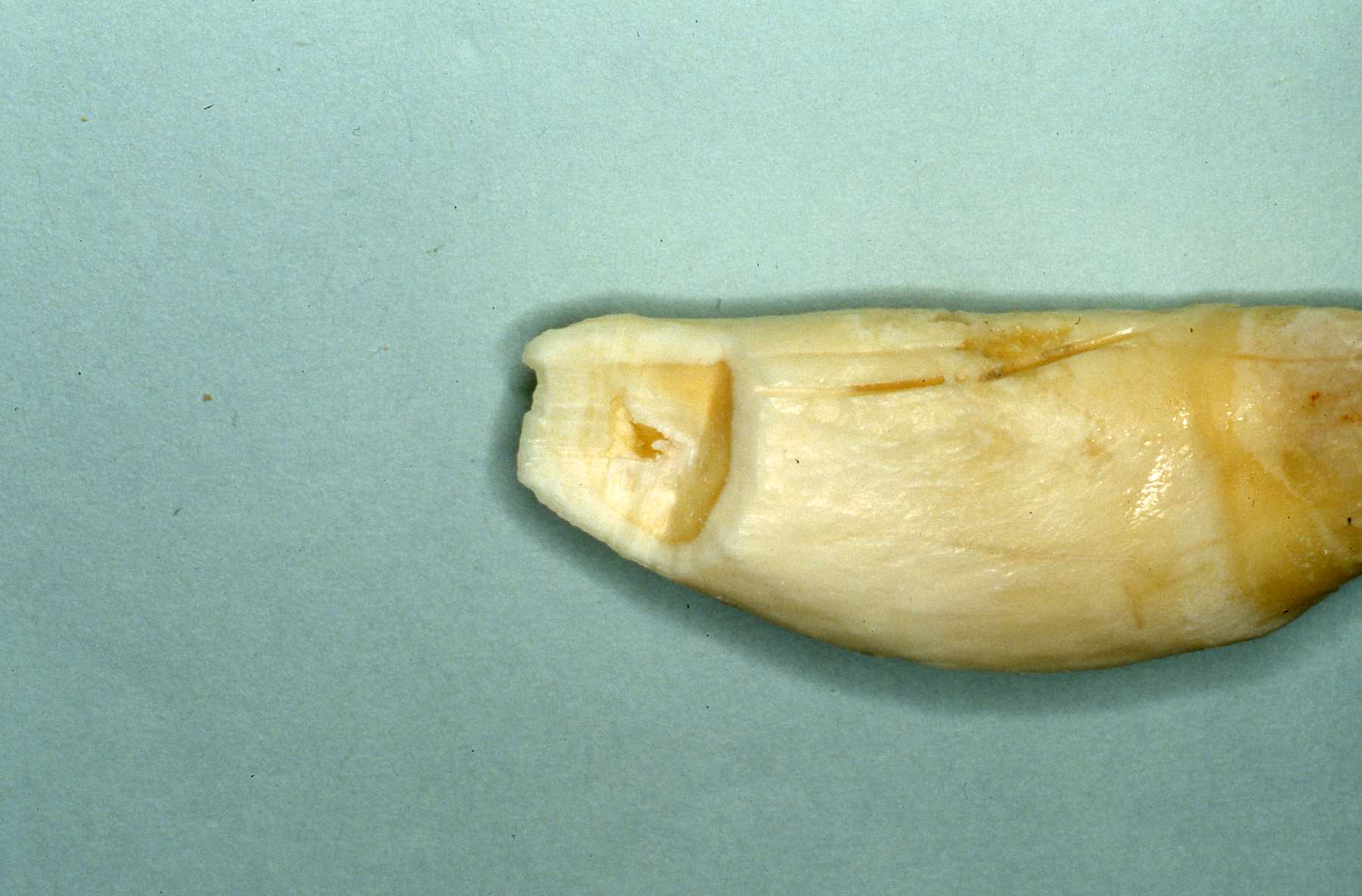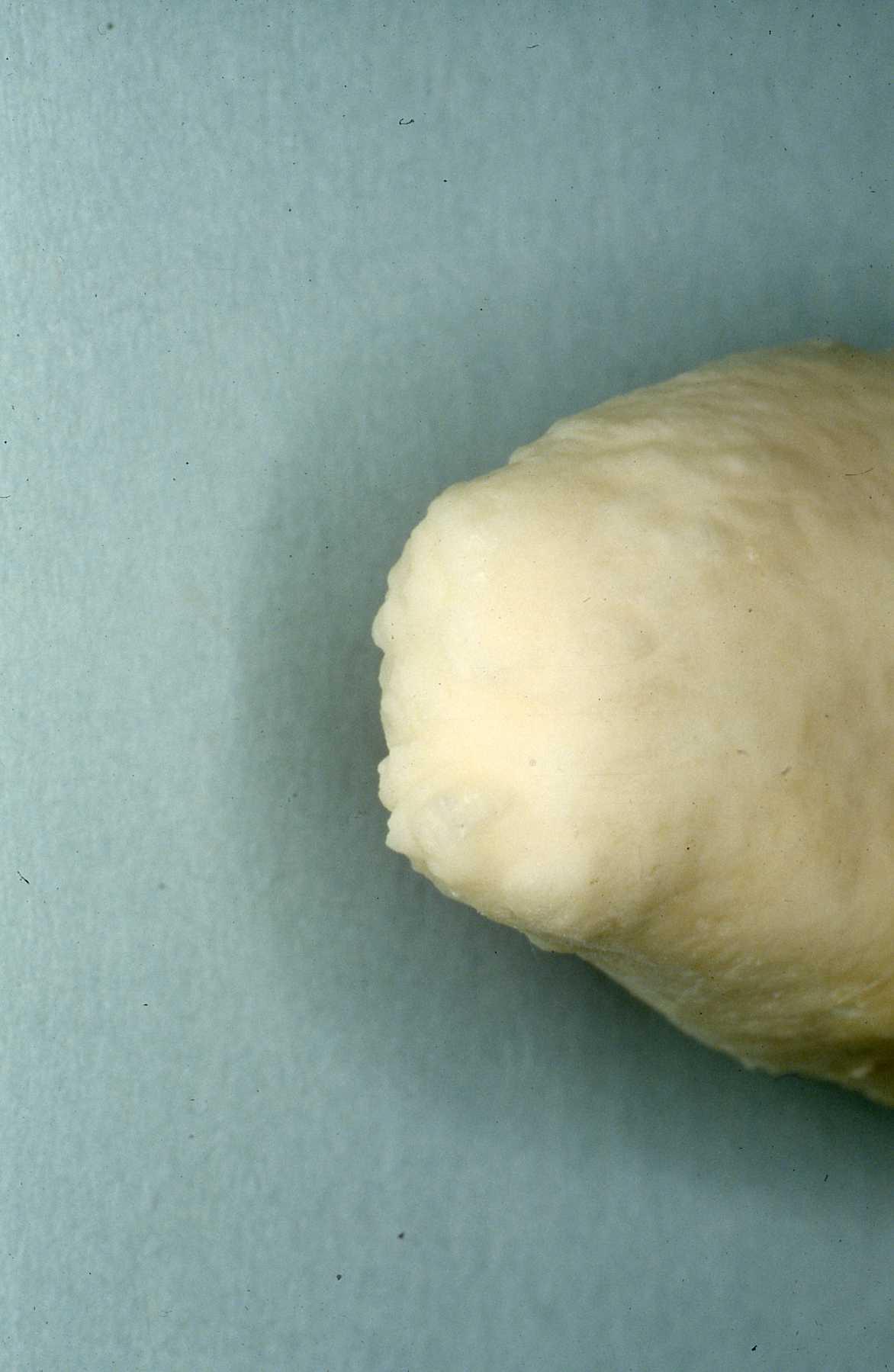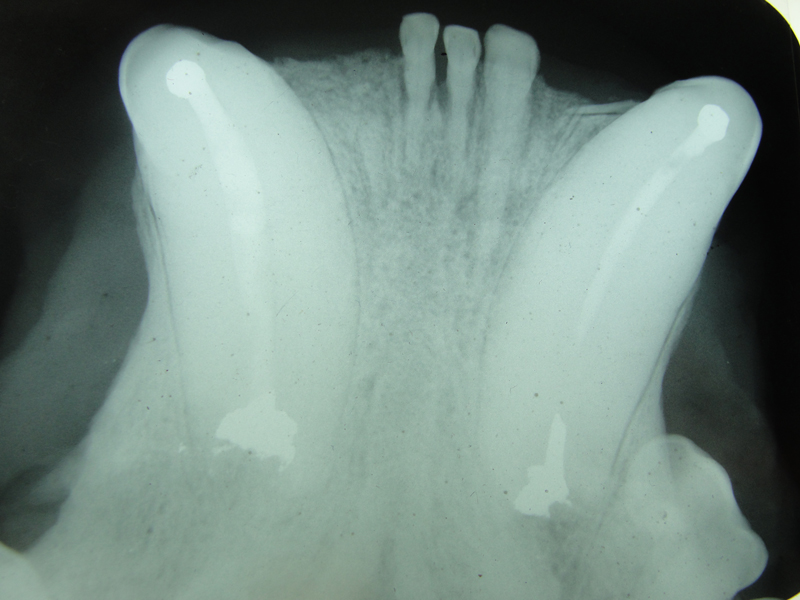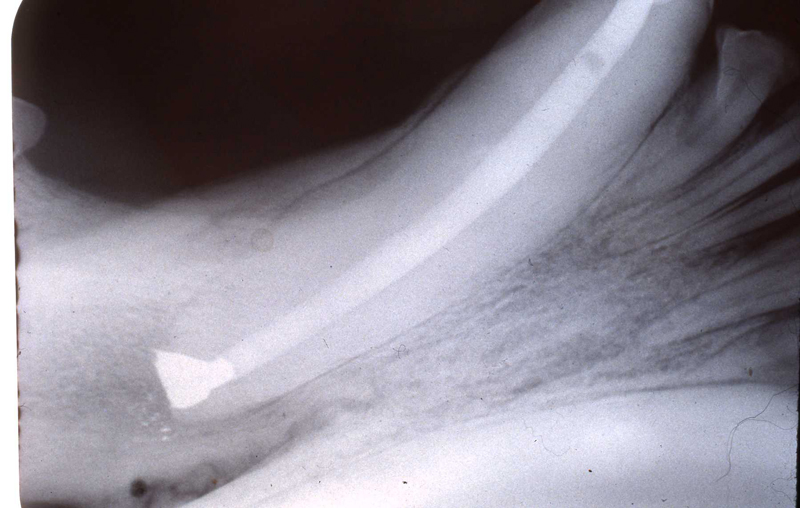 Accumulating the proper armamentarium will require some time and expense. Besides the basic setups used in human endodontic therapy, specialized equipment is available for treating the large and long teeth encountered in exotic species. Endodontic files created for treating dogs in the 60 mm. length range and 100 mm. length files for large carnivore canines are available. The Large Volume Veterinary Endodontic Syringe can be used to deposit sealer paste prior to placing and condensing gutta percha points. Gutta percha Dental Stopping (available from Shipps' Laboratories) can be molded to create larger and longer custom points. I have made them up to 4 inches in length for an Indian rhino mandibular canine fill.
I use an electric endodontic file handpiece and ultrasonic handpiece in my human practice. I do not that have those luxuries at the zoo, yet. We do use an IM3 unit and have recently added digital radiography. The veterinary field has many excellent power units such as Endopulse and Light Speed with long files available that will be adequate for most teeth encountered at the zoo. There are endo files over 100 mm in length and gutta percha and paper points that will reach 90 mms. There are Links to Veterinary Catalogs that carry these special items and others on this site.
In endodontic cases I always prefer to use the coronal or oblique endodontic access approach. In carnivores, however, because of the delta foramina anatomy, if the pulp is abscessed and or a significant periapical lesion is present the apisectomy/retrograde fill technique must be considered. This is because the presumed diseased delta canals cannot be instrumented or thoroughly disinfected with irrigants. See Reference section listed paper by Kuntsi-Vaattovaara et.al.
In carnivores the mandibular canine apex is surgically approached with a latero/ventral approach. The sometimes multiple mental foramina anatomy must be avoided. Preoperative radiographs and study of skull references should be utilized. In the long muzzle of the canids, the maxillary canine apex can be readily approached intraorally. In the short muzzle of felids the most efficient approach is extraorally. This was first pointed out to me by colleague Dr. Peter Kertesz. He illustrates this in his textbook. Canal debridement and disinfection is achieved in the usual manner. The apical area is debrided from the surgical approach. The canine apex is resected and obturated with gutta percha and canal sealer. The apex is sealed with MTA or other suitable restorative. I used silver amalgam for many early veterinary cases (and for human cases in my dental practice) with a high rate of long term success, have used EBA but now prefer MTA.
In two previous cases, both tigers with abscessed maxillary canine abscesses, I did the intra oral approach. They were successful. However, the brachycephalic muzzle requires reflection of the levator nasolabialis muscle and a slot approach to reach the tooth apex. Besides being a very challenging surgery, this technique results in a significant amount of edema at the surgical site for the patient. Dr. Kertesz presented the idea of the extra oral approach in his text which has worked out well for me. See two photos of the tiger case, intraoral surgical approach and radiograph of the fill. Also note two FORL lesions that were restored with silver amalgam. See reference to that technique in section on FORL.
Cases
1. Fennec Fox, maxillary canine endodontic therapy
Photos by Mike Nepper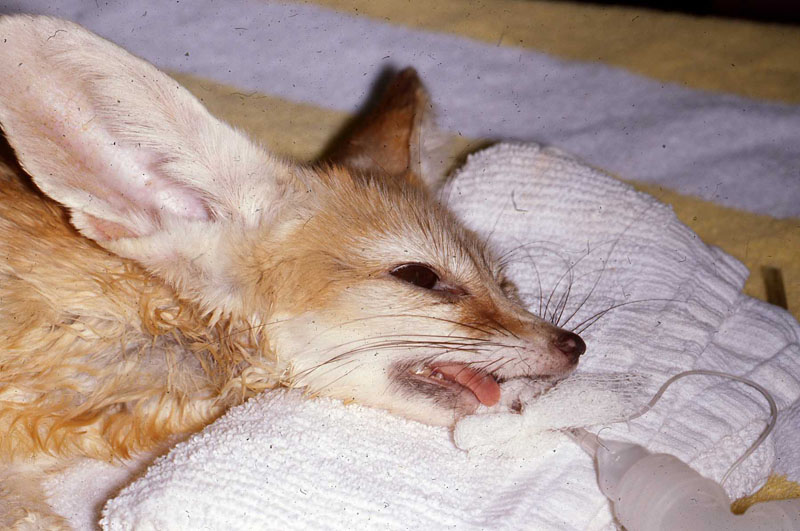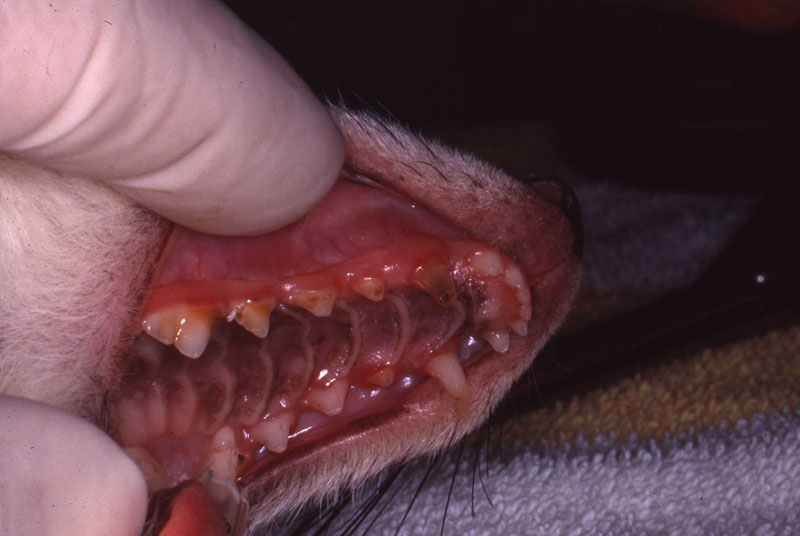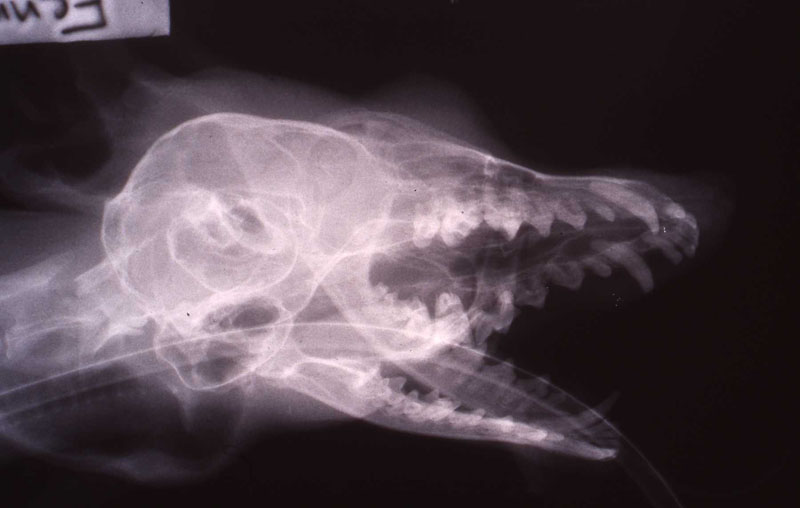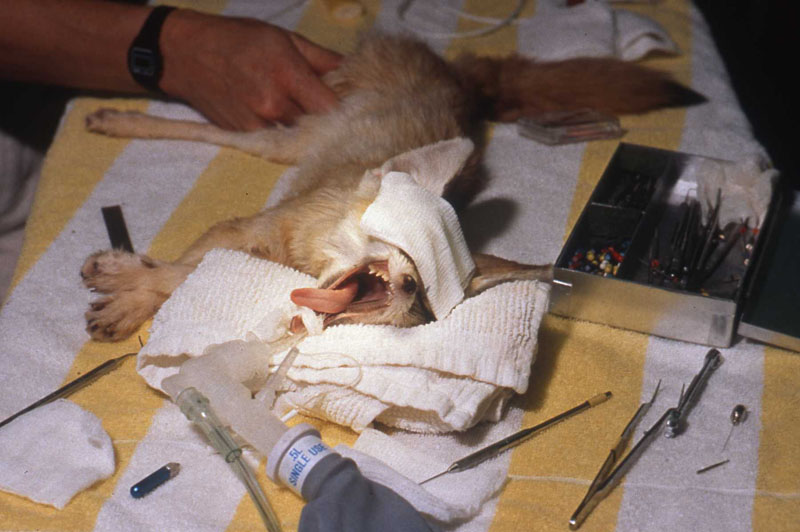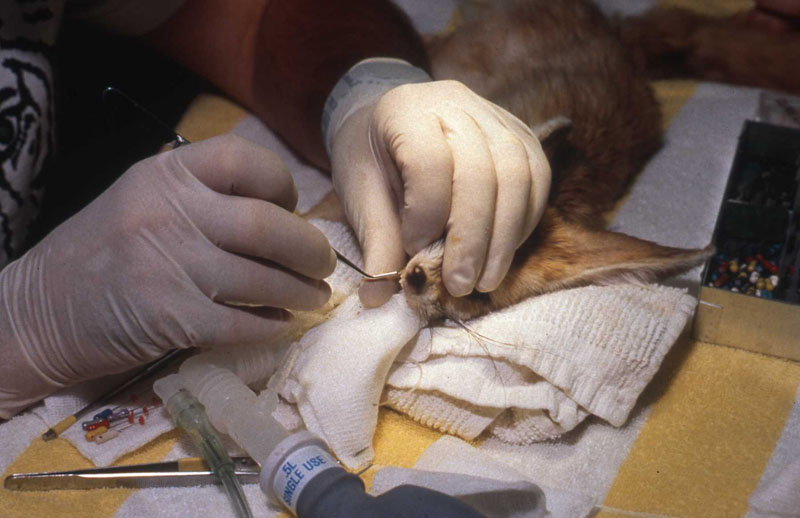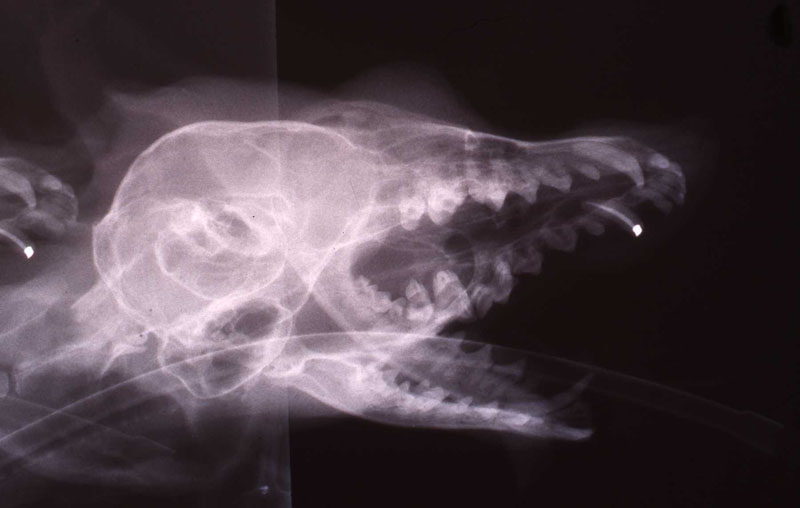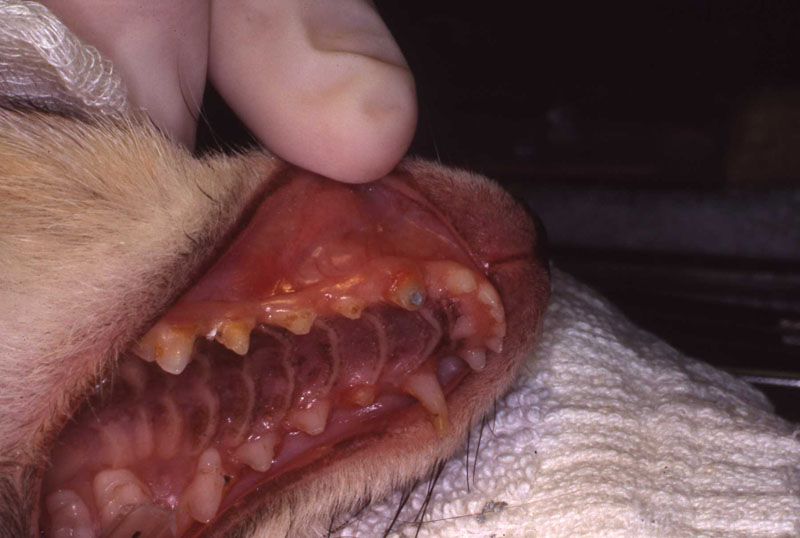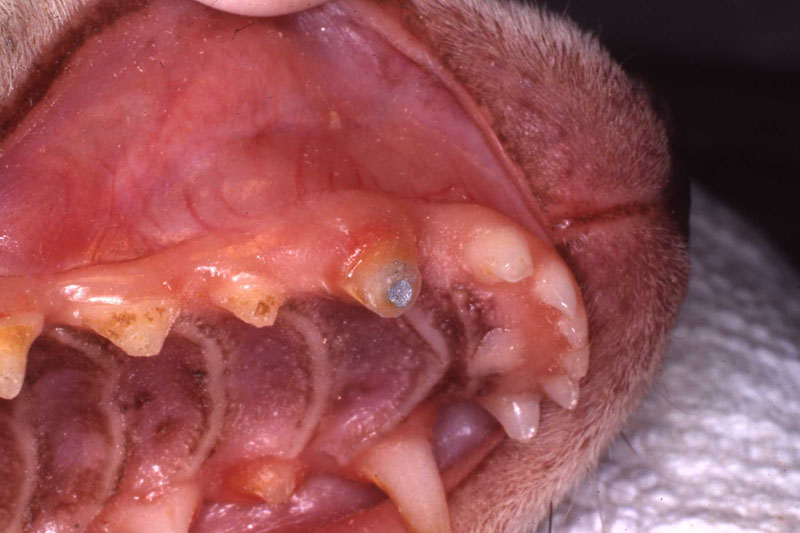 2. Maji, male lowland gorilla
Maji, male adult lowland gorilla, presented with an intraoral lesion on the buccal gingiva, adjacent to the fractured maxillary canine. Maji allowed me a close visual examination with the help of keeper Claire Richard due to excellent training. I was concerned that this may be an endo-perio lesion. Upon initial sedation I used a periodontal probe around the circumference of the canine and found no associated periodontal pocketing. The lesion proved to be a chronic drainage tract opening. We decided to perform endodontic therapy and the veterinarians transported Maji to the Animal Health Center while my assistant and I did final setup.
The open canal was prepared and the canal was debrided with endo files. It was irrigated with NaOCL and dried with paper points. A master cone was fitted, withdrawn and then ZOE base filler paste was deposited into the canal using the LVVES. The LVVES needle was placed at the apex and then withdrawn as the paste filled the canal. Then gutta percha was placed and condensed into the canal. When the canal was totally obturated a zinc phosphate cement base was placed over the fill. After the base set the opening was prepared with a no. 35, inverted cone bur. Then amalgam was placed and condensed.
The postoperative radiograph revealed a complete fill. Some overfill of the endo paste did flow into the chronic drainage tract.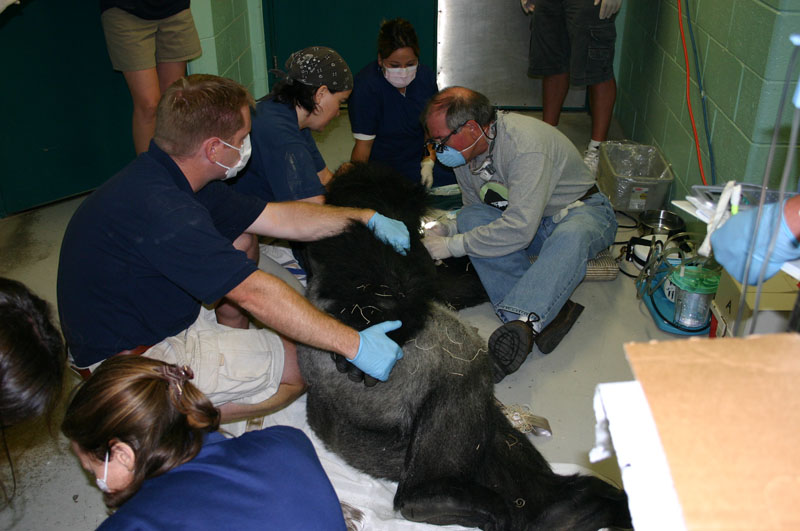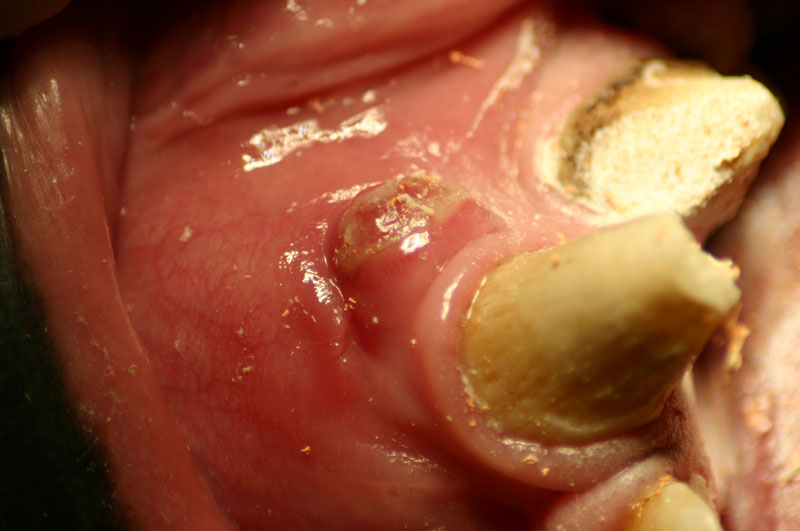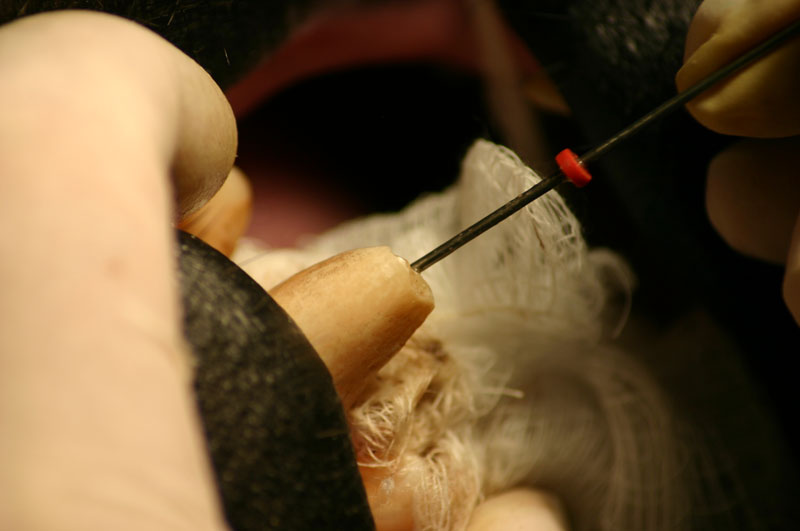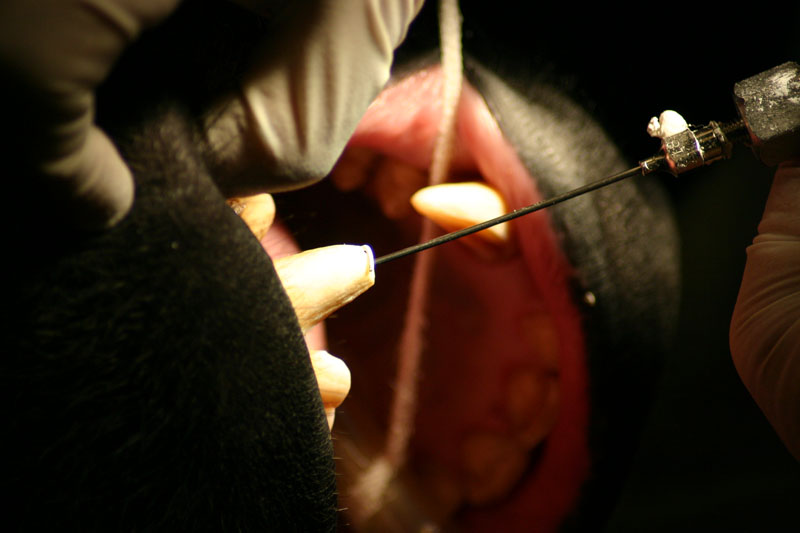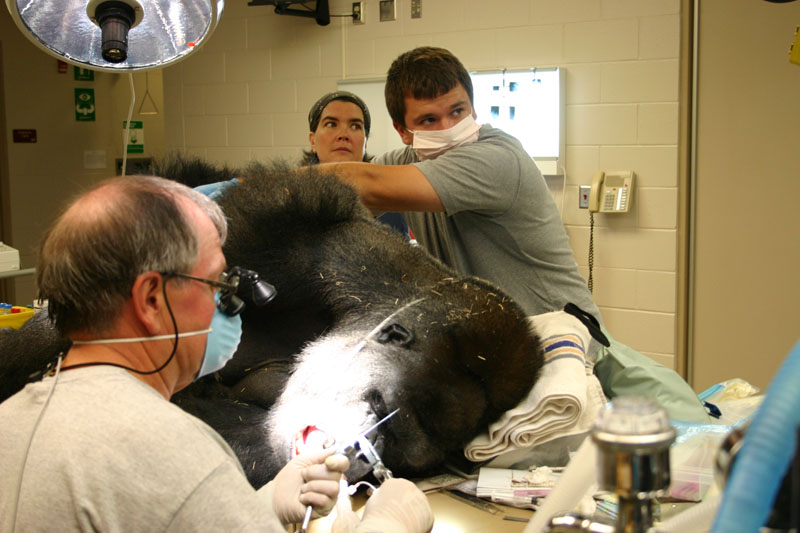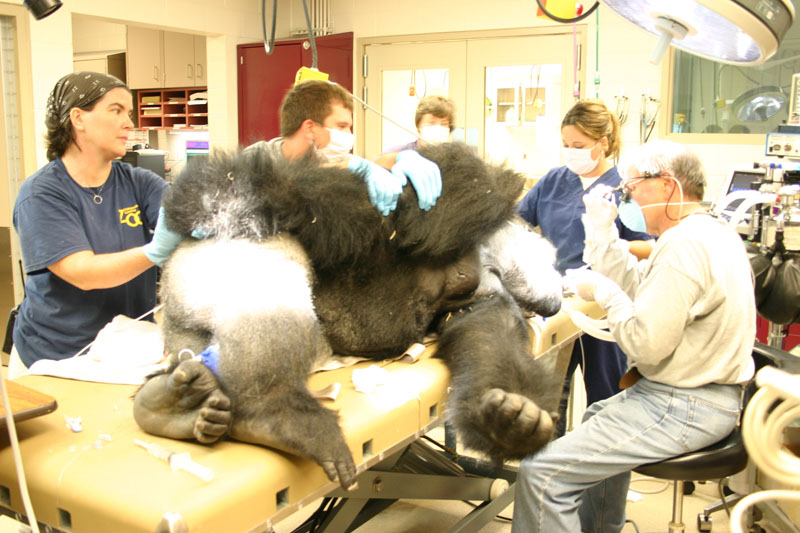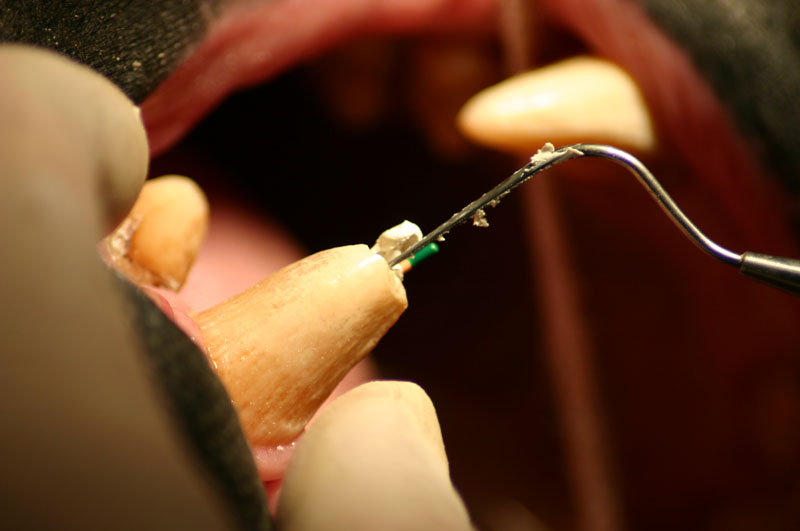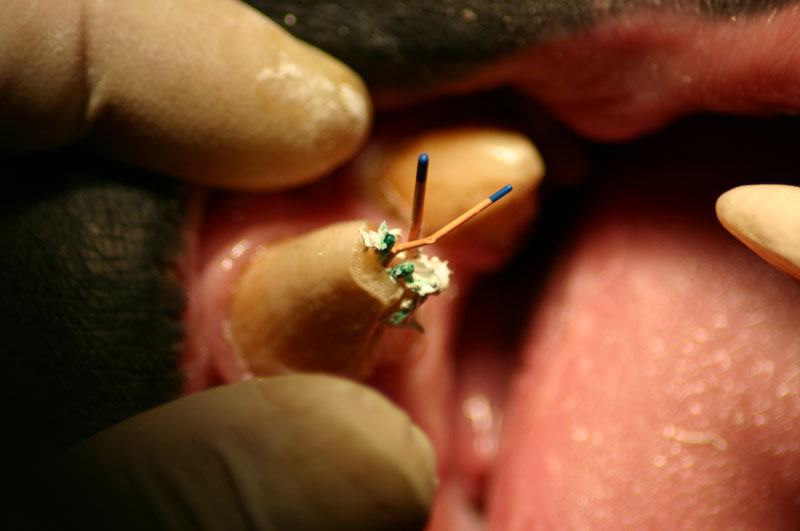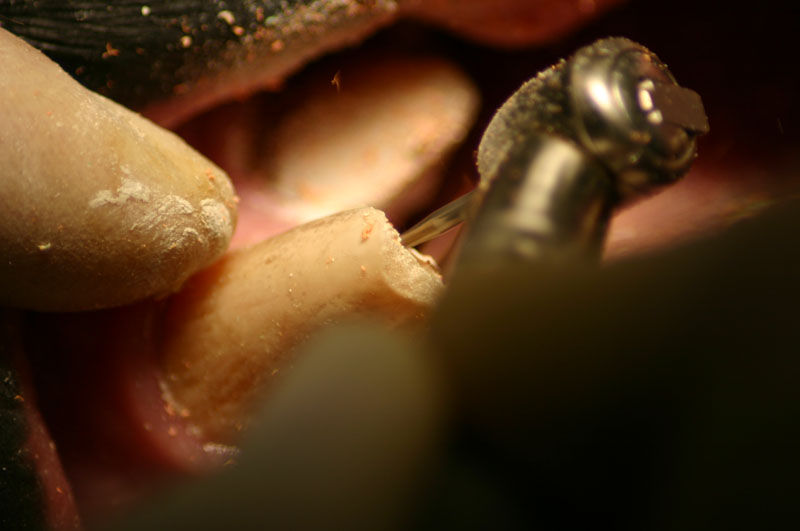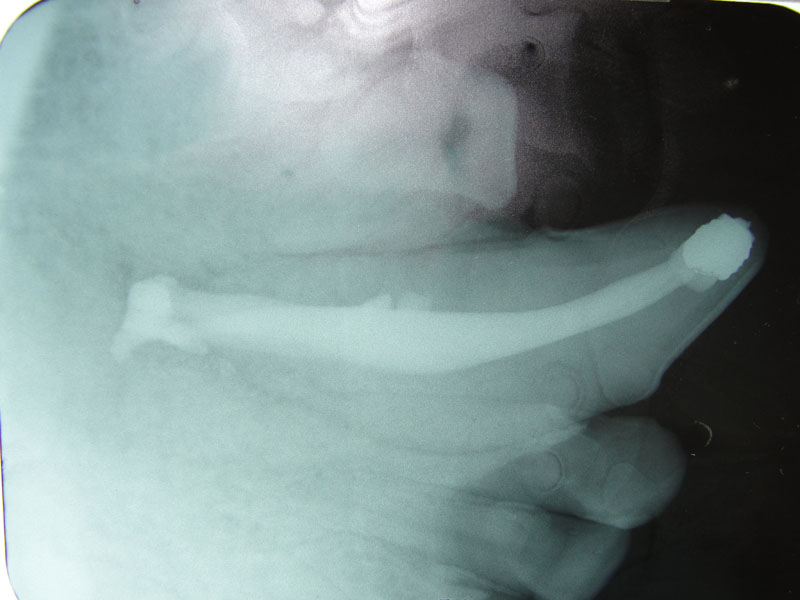 ---
3. Extra-oral Endodontic Technique for the Maxillary Canine in Felidae
John L.Scheels D.D.S.
Dental Consultant
Milwaukee County Zoo
Victoria L. Clyde D.V.M.
Staff Veterinarian
Milwaukee County Zoo
The conventional coronal, also known as the direct or oblique, endodontic technique, is adequate for successful endodontic treatment if the operator can thoroughly debride the root canal to its apex. Even with the potentially troublesome delta apex in carnivores, the success rate is very high if a hermetic seal can be achieved. As in all endodontic procedures, periodic re-examination including radiographs is necessary to evaluate the long term success of treatment.
However, if a coronal endodontic fill fails, if a periapical lesion is present initially, or if the apex is significantly altered due to lysis such that a solid seal would m be achieved using a coronal technique, the surgical apical approach should be considered. This extra-oral approach permits debridement of a periapical lesion, apisectomy of the root and a direct retrograde seal.
The intra-oral surgical technique for maxillary canines in Canidae has been performed successfully for many years. The mandibular extra-oral surgical technique has also been successfully performed for many years in Canidae, Felidae, Hyanidae, and Ursidae. However, performing an apisectomy and retrograde fill with an intra-oral approach in Felidae has presented a challenging surgical problem for the author and others due to anatomical considerations.
The intra-oral approach in Felidae necessitates the reflection of the levator nasolabialis muscle, is very close to the infraorbital foramen, and forces the operator to approach the root apex ventrolaterally.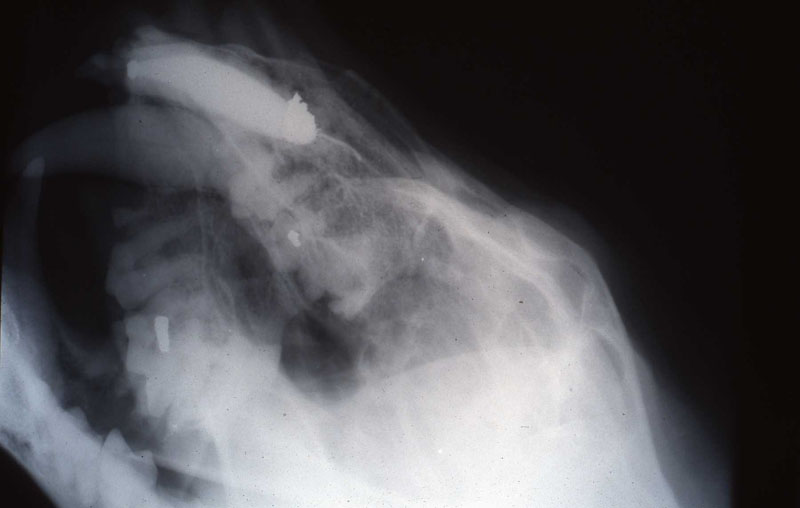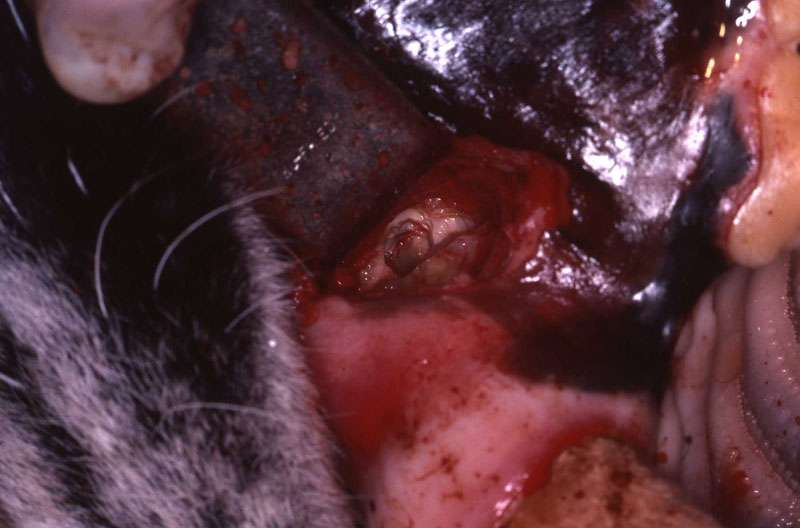 In Felidae, the apex of the maxillary canine is more safely and directly accessible extra-orally in the facial area rostral to the medial canthus of the eye. This approach was first suggested to the author in personal conversations with Dr. Peter Kertesz, who describes this technique in his book A Colour Atlas of Veterinary Dentistry.
Case Report
An 18 month old, 7.5 kg , female caracal (Caracal caracal caracal) new to the Milwaukee County zoo collection presented with a fractured right maxillary canine tooth during routine quarantine examination. The canine tooth had approximately 3 mm of its tip fractured off, the pulp chamber was exposed, and the tooth was darkened due to degeneration of of the pulpal tissue, and induction of food debris. There was no sign of an external drainage tract lesion. Radiographic examination revealed the presence of a periapical lesion 6mm by 7mm in diameter. The extra-oral surgical approach was chosen to debride the periapical lesion, resect the apex, and perform a retrograde fill in conjunction with the coronal or oblique endodontic fill.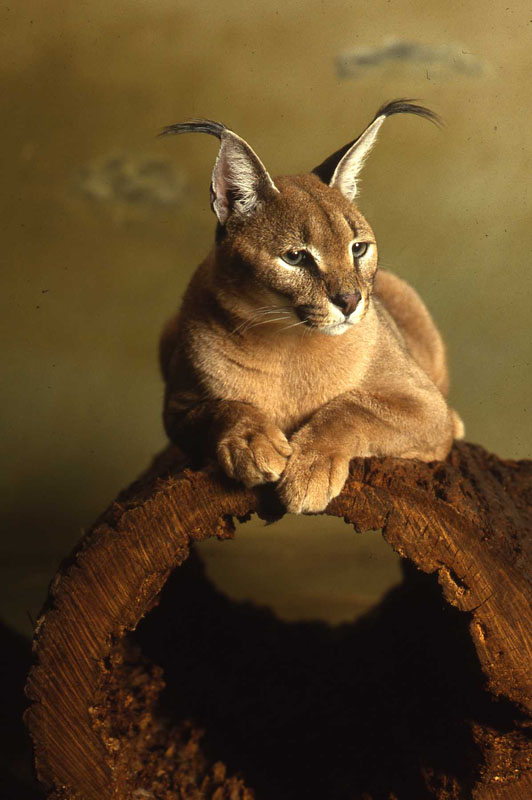 Photo by Mike Nepper
The caracal was immobilized with ketamine (Ketaset©, Fort Dodge Animal health, Fort Dodge, Iowa 50501, USA) 16 mg/kg and tiletamine/zolazepam(Telazo1©, Fort Dodge Animal Health) 4.5 mg/kg administered intramuscularly by a plastic dart. The animal was intubated with a 5.5 mm cuifed endotracheal tube and maintained on 1-1.5% isoflurane in oxygen. Amoxicillin (Amoxi-inject©, Pfizer Animal Health, Exton, Pennsylvania 19341, USA)l50 mg and enrofloxacin (Bayrtil©, Bayer Corporation, Shawnee Mission, Kansas 66201, USA) 34 mg were administered subcutaneously prior to the surgical procedure.
A horizontal incision was made rostral to the medial canthus of the eye, dissecting to bone. The patients' eyes were draped for protection. A 558 surgical bur in a water cooled high speed dental handpiece was used to cut through the bone and expose the canine apex and lesion.
The periapical lesion was debrided with small bone currettes. The exposed root apex was sectioned. Endodontic files were used to debride the entire root canal from the coronal end. Sodium hypochlorite and RC Prep (Root Canal Preparation©, Premier Dental Products, Co., 3600 Horizon Drive, King of Prussia, PA 19406-0974) was used to irrigate the canal during filing When the canal was prepared, irrigated, and dried, a PC pressure syringe (Pulpdent Corporation Pressure Syringe©, Pulpdent Corporation, 80 Oakland Street, Watertown, MA 02471, USA), was used to deposit the zinc oxide/eugenol paste until it extruded apically. Gutta percha points were fitted, placed and laterally condensed. A retentive preparation was made at the apical and coronal ends, and silver amalgam was used to seal the preparations. The surgical site was irrigated with sterile saline and closed with dissolving sutures.
lnteroperative and postoperative radiographs were obtained to verify endodontic working length and extent of endodontic fill.
Amoxicillin (Trimox©, Bristol-Myers Squibb, Pinceton, New Jersey 08540, USA) 150 mg p.o. b.i.d. was administered for 14 days postoperatively. The incision healed quickly without complication, and the animal's appetite remained excellent.
The animal was reimmobilized using either a similar anesthetic regimen, or ketamine 6mg/kg and medetomidine (Domitor©, Pfizer Animal Health) 37 mcg/kg I.M., at 3 weeks, 14 months and 29 months. A small scar, approximately 1x4 mm, remains present at the incision site. Radiographs taken at each recheck showed healing of the periapical lesion, and normal bone repair in the surgical site.
The animal delivered and raised a litter approximately 18 months after the initial procedure.
Discussion
This technique offers a simple direct approach to endodontically treat a maxillary canine that has an apical anatomy which would not permit a complete apical seal using the conventional approach. This extra-oral endodontic approach is more direct and less traumatic than the intra-oral surgical approach in Felidae.
Literature Cited:
Kertesz, Peter, 1993. A Colour Atlas of Veterinary Dentistry and Oral Surgery. Wolfe Publishing, Mosby-Yearbook Europe, London Pg. 254.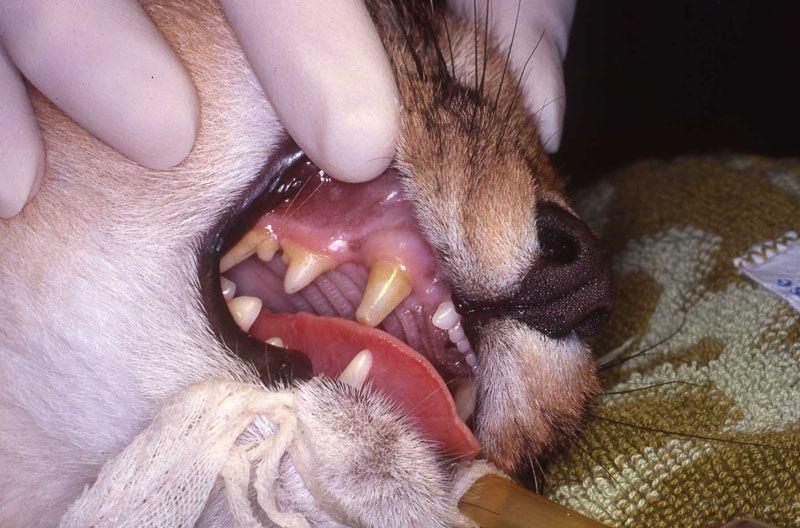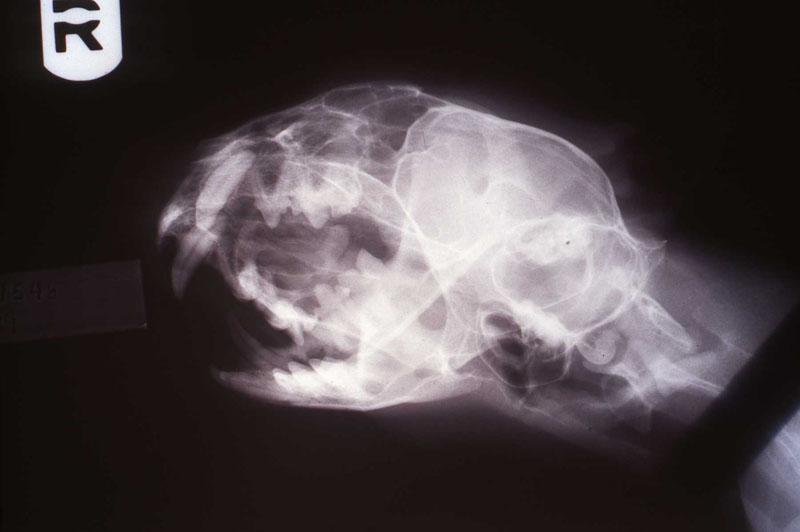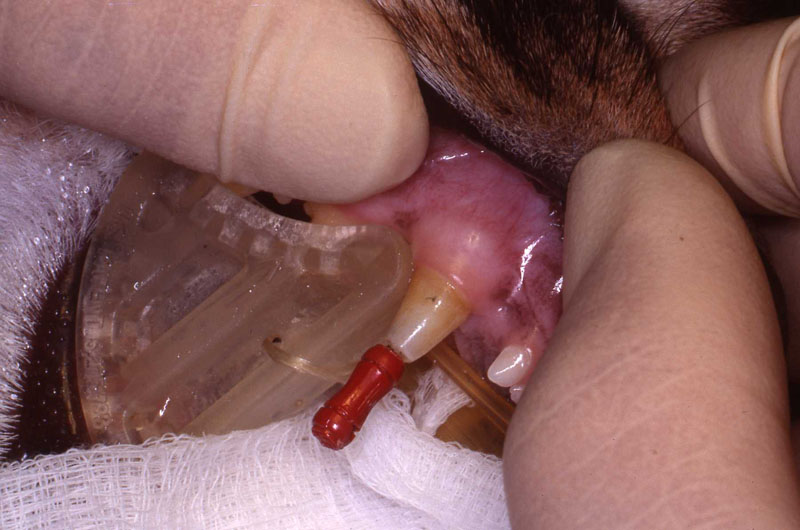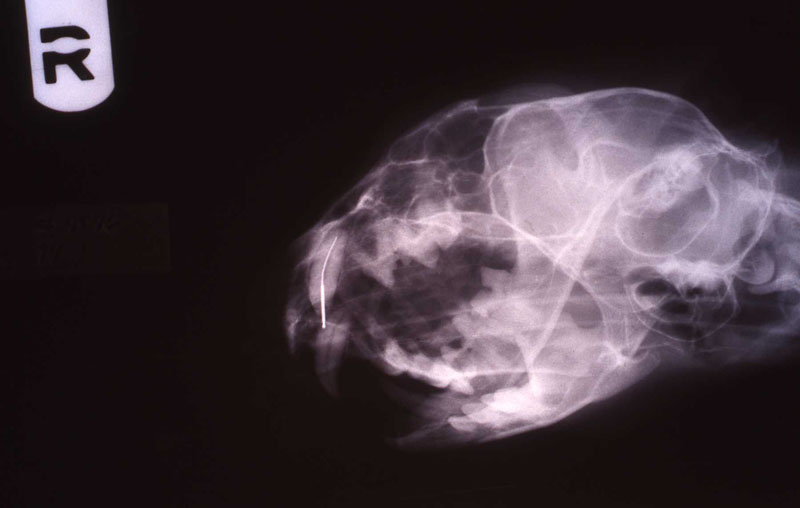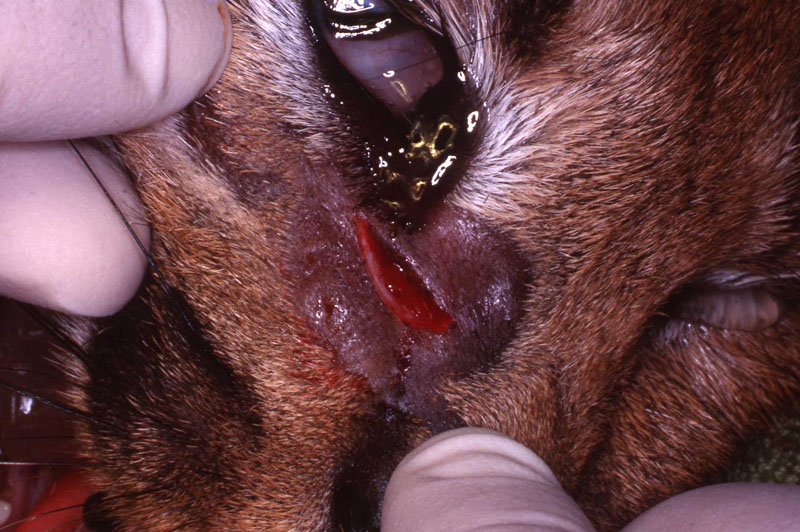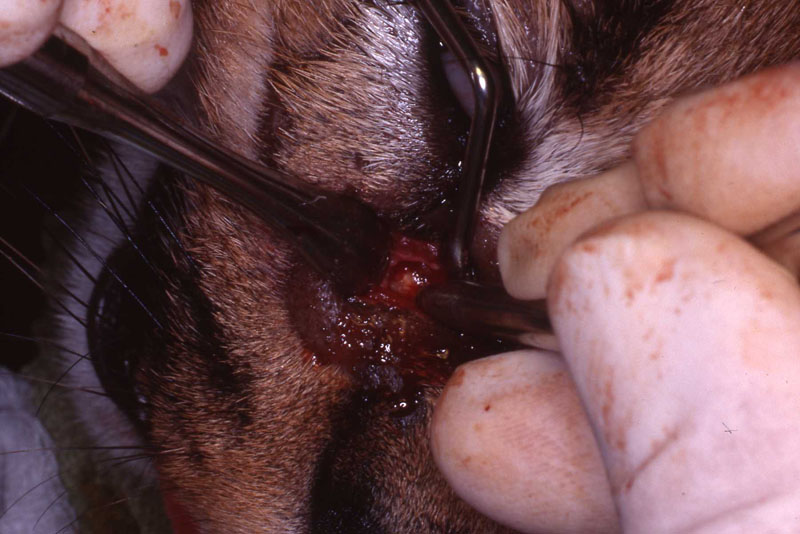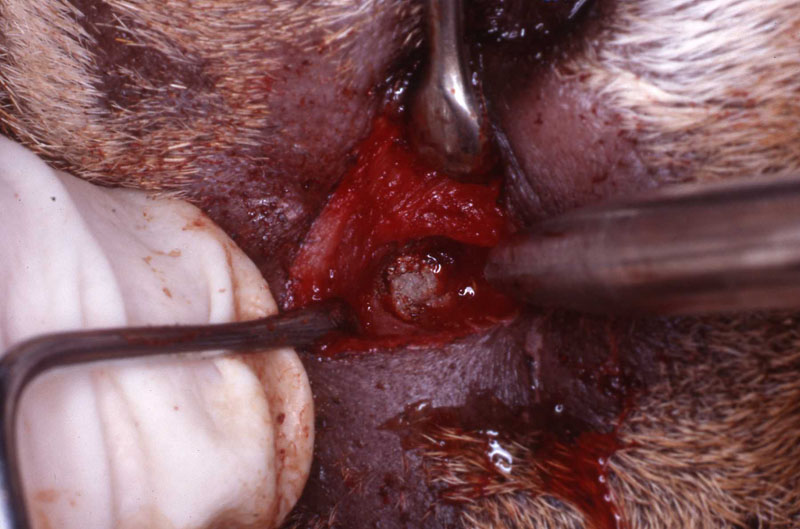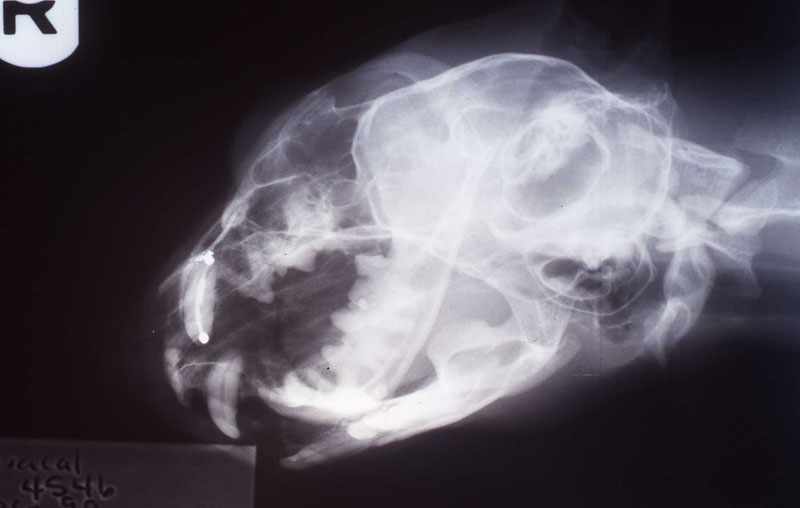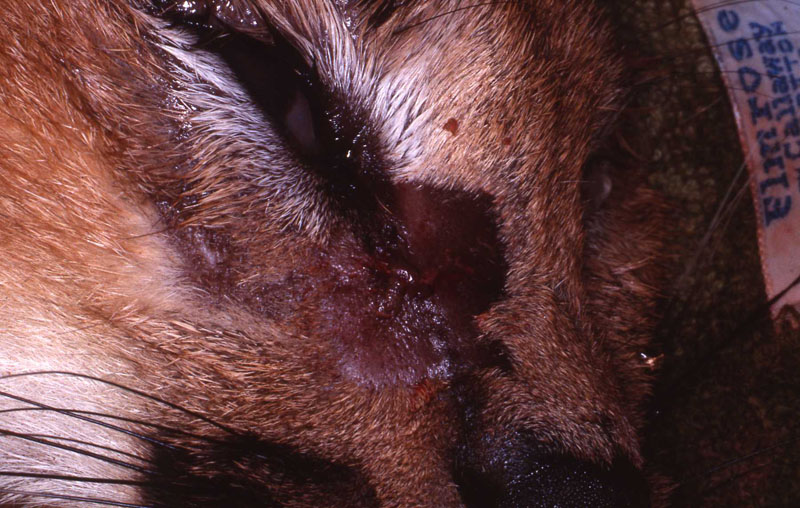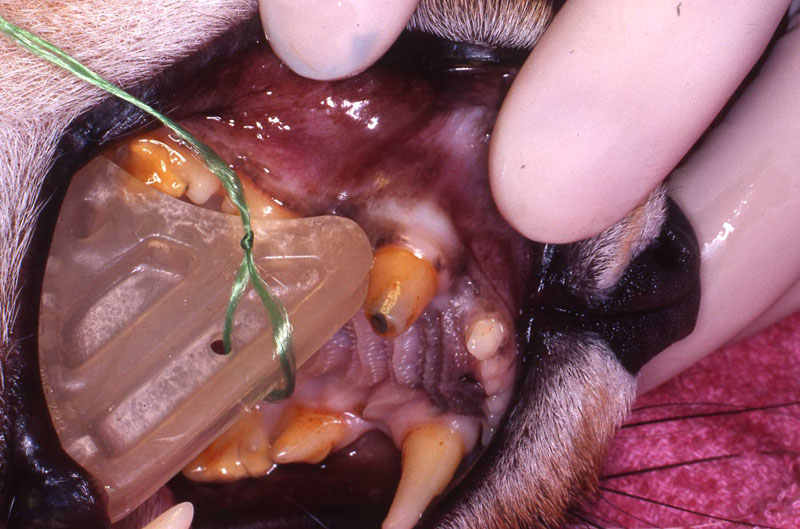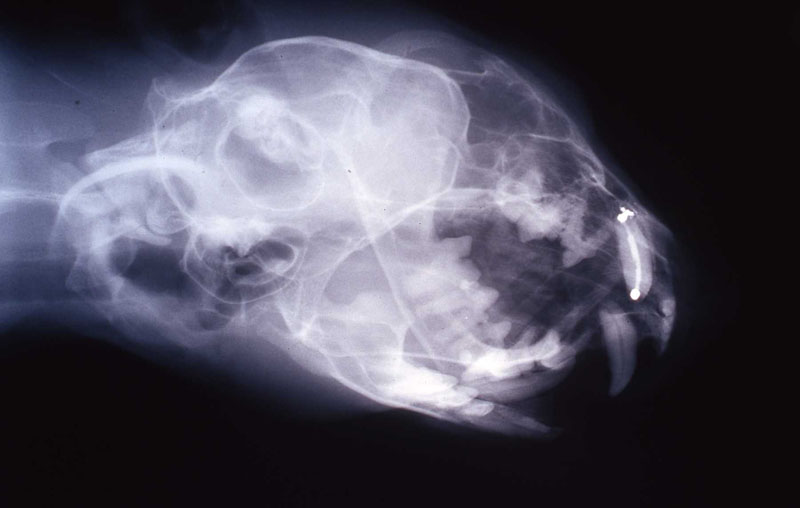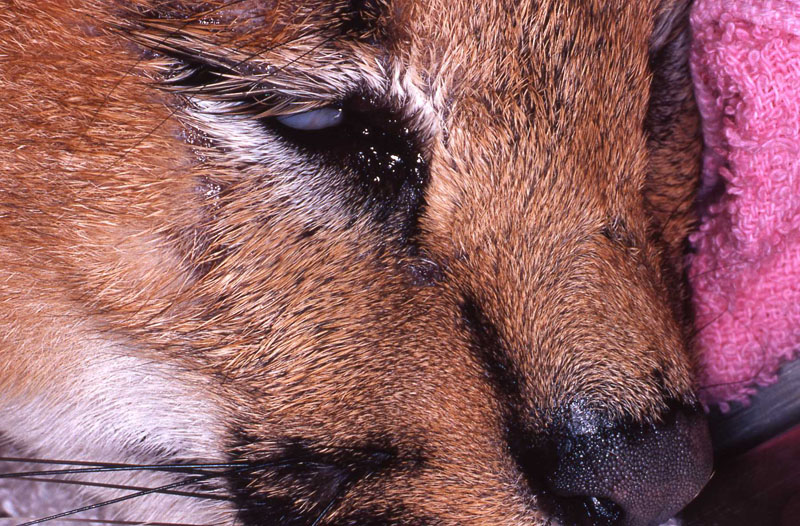 THE WEDGE
®

PATENTED
Radiolucent Mouth Prop for Dogs and Cats
Anatomically designed to provide secure, open mouth
Use for anesthesia, radiography, oral surgery, and dentistry
No moving parts, use if canines are absent
Ultrasound, heat, or cold sterilize
SMALL size for cats and smaller dogs, LARGE size for medium to large dogs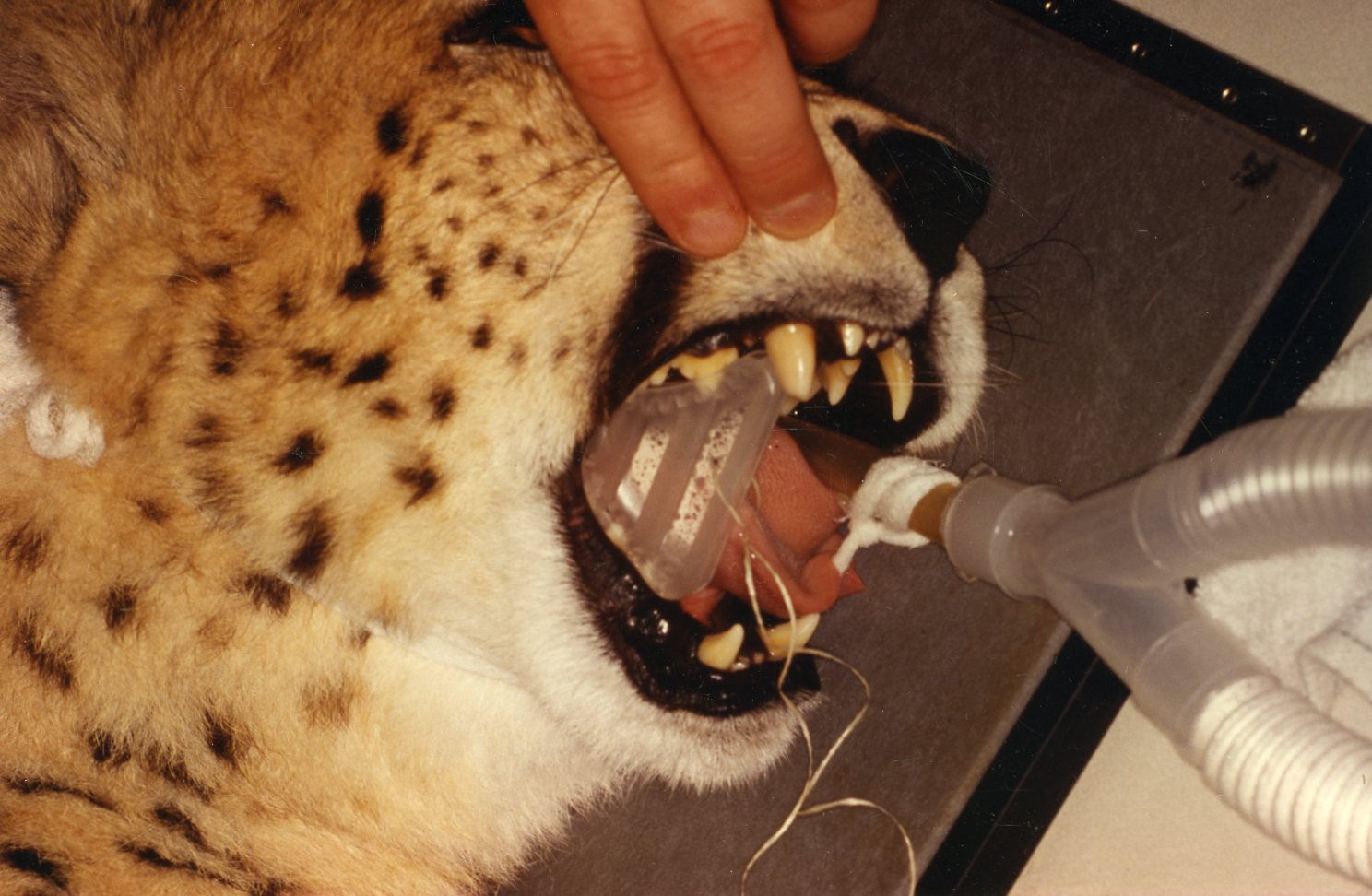 The WEDGE® is a one-piece, radiolucent mouth prop. The patented, anatomic design holds the carnivore mouth open during anesthesia by securely engaging the premolars and molars.
NOTICE: Veterinarians have used spring-loaded mouth "gags" in cats and dogs for many years. However, the spring-loaded devices are no longer recommended. A study published in THE VETERINARY JOURNAL (2014) showed that the spring-loaded "gags" generating constant force contributes to bulging of the soft tissues between the mandible and the tympanic bulla in cats. This force leads to the compression of the maxillary arteries as they course through the osseous structures. In cats the maxillary arteries are the main source of blood supply to the retinae and brain.
Reduction of the blood flow can result in temporary or permanent blindness and neurologic abnormalities. Spring-loaded "gags" constant force can also cause jaw muscle strain and injury to the temporomandibular joints.
It is recommended to use "static" mouth props such as the WEDGE. Be sure to not open the jaw to its maximum to avoid muscle strain and temporomandibular joint injury.
The WEDGE®:
Replaces the metal "gag" which catches whiskers and gloves on springs and slides.
Has no grommets to be lost, permitting metal to enamel contact.
Can be used if the canines are broken or absent.
Can be used on either side of the mouth and switched quickly.
Radiolucency facilitates clear open-mouth radiography.
May be ultrasounded and heat or cold sterilized.
Has a hole provided for attachment of a safety lanyard if desired.
Is useful during anesthesia, intubation, oral examination, oral surgery, dental procedures, and radiographic examination.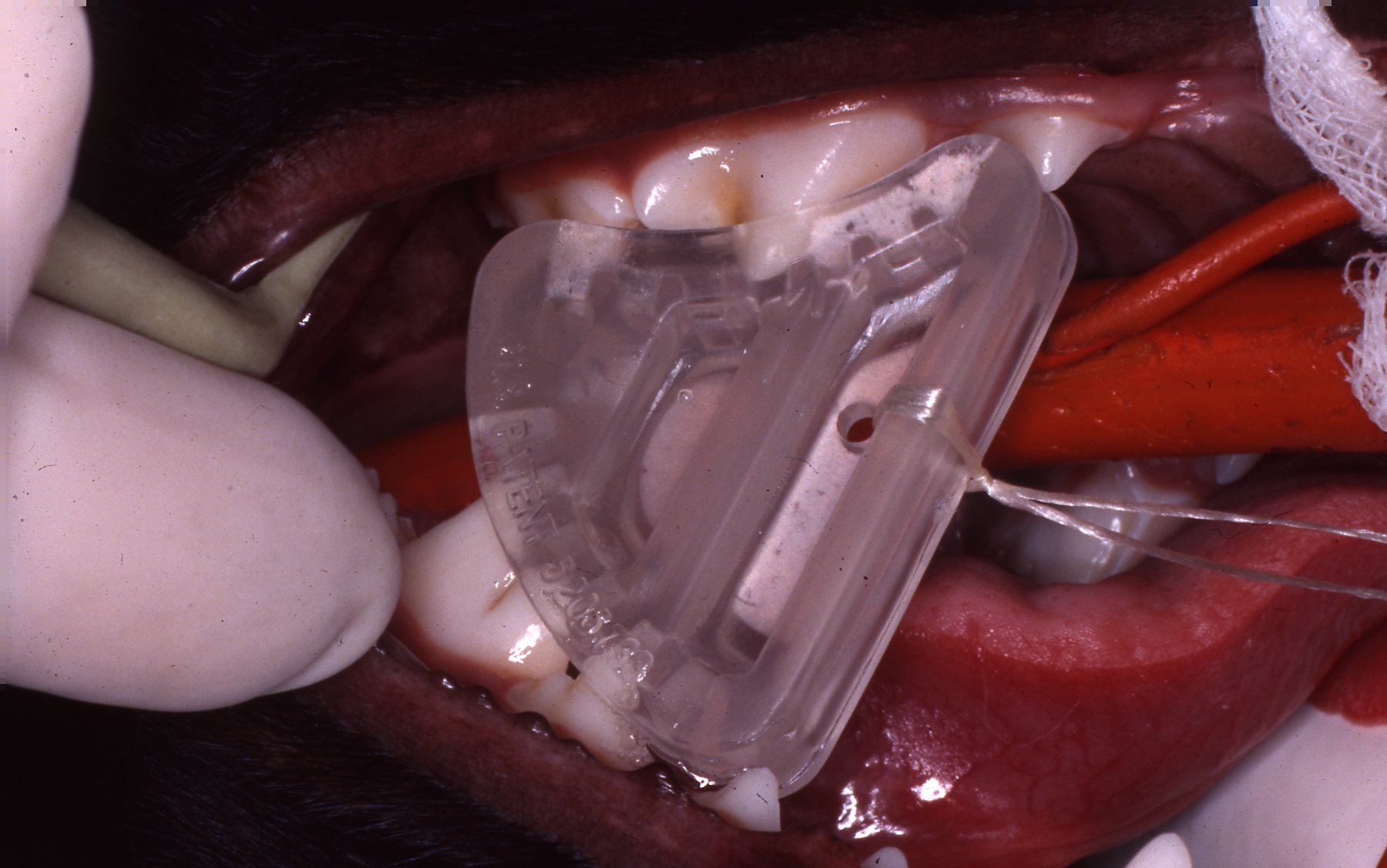 Developed and patented by Dr. John L. Scheels, dental consultant to the Milwaukee County Zoo, Adjunct Assistant Professor, University of Wisconsin-Madison School of Veterinary Medicine.
"The (Scheels) Veterinary mouth prop's biggest asset is its simplicity - open the mouth and stick it in!...it does not interfere with radiographic detail, can be ultrasounded, and autoclaved...can be used for dental and oral surgery procedures...is positioned within the mouth, unlike the spring loaded (extra-oral) devices which can be in the way of the operator and interfere with positioning the patient..."
~ Paul E. Howard, D.V.M.,
Vermont Veterinary Surgical Center, Burlington, Vermont.
Order The WEDGE® from any of these veterinary equipment suppliers:
---
L.V.V.E.S
Large Volume Veterinary Endodontic Syringe™
Click here for more details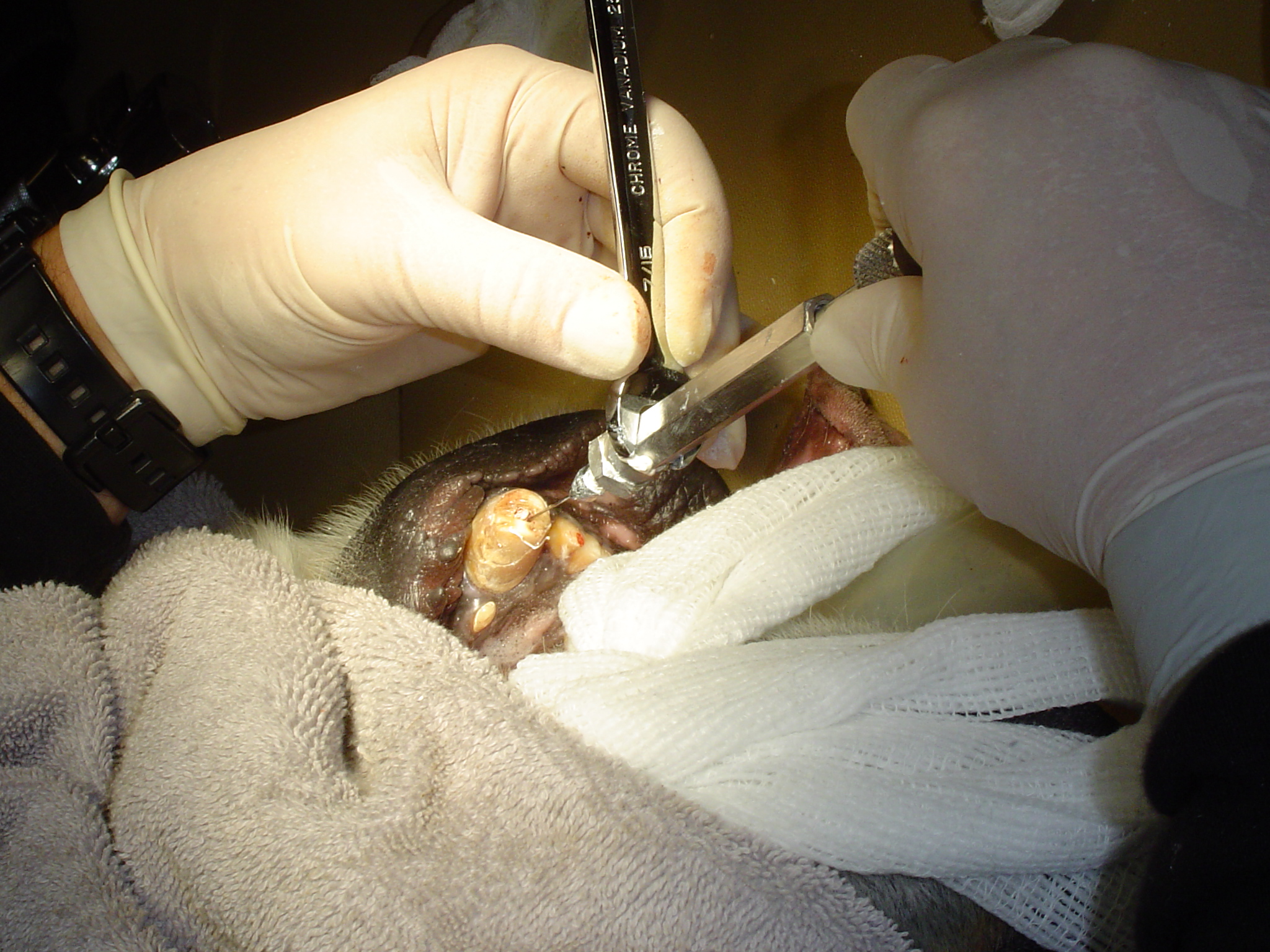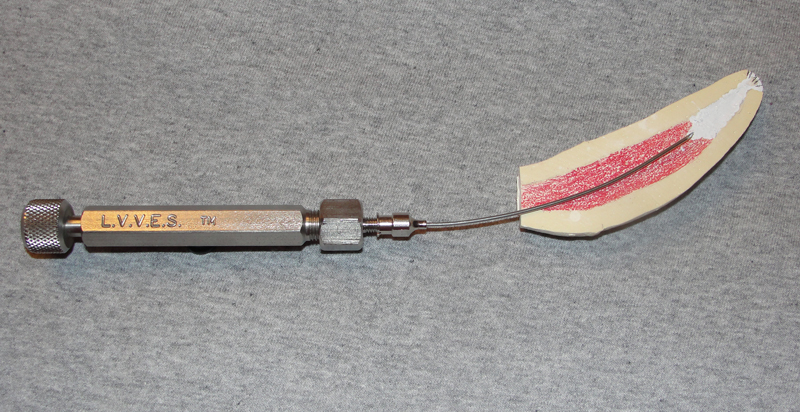 An endodontic syringe developed by Dr. John Scheels specifically for veterinary use in all species for complete and consistent obturation of root canals over 30mm long or with large pulp chambers. It permits the positive deposition of endodontic sealer and filler pastes at the apex of these long teeth. NO SPECIAL NEEDLES are required as it may be used with any standard size hub. Plastic, metal, threaded or non-threaded needle hubs will seal well on the tapered syringe nipple.
Purchase from Shipp's